March is an exciting month for me with events and exhibitions about M/others and birthing, starting with a panel at M/Other at the Wheeler Centre in Melbourne.

"Last year, more than 300,000 children were born in Australia, yet systems in place for childbirth remain opaque and often discriminatory. For M/OTHER, the Wheeler Centre brings together a panel of perinatal health experts and creatives to explore the disparity between birthing expectations and reality, the birthing body, structural healthcare barriers faced by First Nations communities, and why mental health care for new parents so often falls short. Combining their personal experience with years of research and expertise in the fields of perinatal health, this panel features author of The Cost of Labour, Natalie Kon-Yu; nurse and Vice Chancellor's Fellow at RMIT, Dr Ruth De Souza; and Karinda Taylor, CEO at First Peoples' Health and Wellbeing. Together with feminist writer and organiser Karen Pickering, they will navigate the intersections between pregnancy, birthing and healthcare for a multi-faceted discussion of the contemporary birthing experience."
If you missed it, you can watch below.
The Perinatal Society of Australia and New Zealand (PSANZ) Congress follows from the 5th – 8th March at the Melbourne Convention and Exhibition Centre. PSANZ is a multidisciplinary society dedicated to improving the health and long term outcomes for parents and their babies. The theme for the Congress is 'Laneways to Better Perinatal Outcomes'. I am excited to be presenting as part of a panel on Tackling racism in perinatal care being chaired by Nisha Khot (guest on the Birthing and Justice podcast episode Season 2, Episode 5) and Jayne Kotz. Some of my favourite people are also on the panel on Wednesday: Catherine Chamberlain (guest on the Birthing and Justice podcast episode Season 4, Episode 2) will be talking about What do Parents need to Feel Safe?; Mandy Truong will be talking about Overcoming Institutional and Organisational Racism in Health Settings: Jacynta Krakouer (guest on the Birthing and Justice podcast episode Season 4, Episode 2) will be talking about The Australian Antiracism Alliance (AAPP) An Aboriginal-led initiative, the Australian Anti-Racism in Perinatal Practice (AAPP) Alliance which is a group I am proud to be a part of. It is made up of First Nations and non-Indigenous academic and industry experts with an interest in generating knowledge and action to improve First Nations women's experiences and outcomes within the perinatal sector in Australia. You can read a paper we co-wrote: Identifying and dismantling racism in Australian perinatal settings: Reframing the narrative from a risk lens to intentionally prioritise connectedness and strengths in providing care to First Nations families. I'll be talking about Cultural safety and maternity/birthing care. Focussing on voice and representation, and the Birthing and Justice podcast.
Then at the end of the month, I'm convening a panel at the Centre for Contemporary Photography (CCP). This time with some of my previous podcast guests Eleanor Jackson, Natalie Kon-yu, Helen Ngo and Skye Stewart (forthcoming). It accompanies a beautiful exhibition at CCP which includes Lisa Sorgini: 'Behind Glass', Ying Ang: 'The Quickening', Odette England: 'Dairy Character', and Miriam Charlie: 'Getting to Borroloola'. Hope to see some of you there!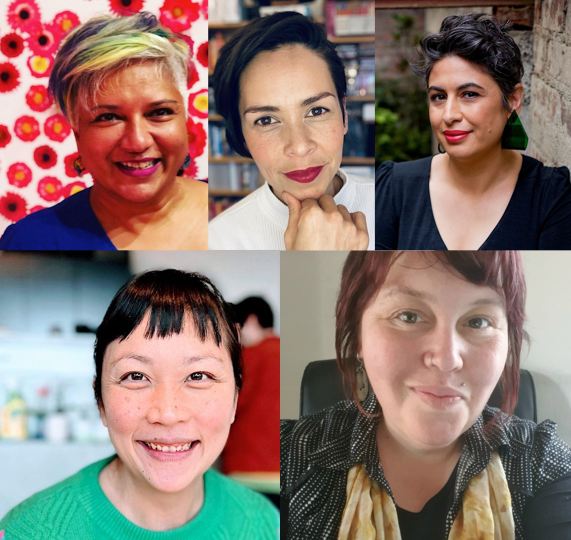 In March I am also doing presentations for Diversity Arts Australia on Cultural Safety and the arts; A keynote on the theme Reimagining Asian Mental Health for Te Papa; a keynote at the Echuca Regional Health Research and Innovation Symposium (which has already been postponed twice because of the pandemic and floods); and finally a panel for the Screenworks' 2023 Regional to Global Screen Forum.